contribution # 1 | THE OX HEAD | barbara witteveen and jozef van rossum
View this video full screen on Vimeo by clicking its title in the top left corner.
to strengthen the ties with the ocw-audience, i ordered three floating trophies from the rotterdam visual artist barbara witteveen, to be raffled among the audience on the three successive crimmp-evenings. _barbara provided three monumental ox tongues.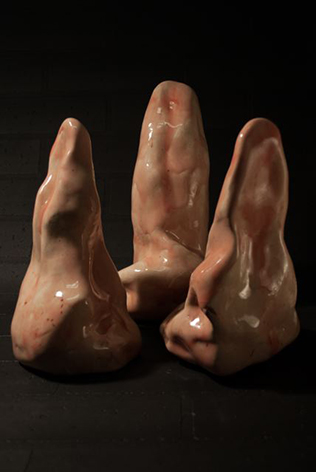 "'i just took them out of the oven and i'm happy with them. _a little startled to see these slick tongues as trophies. _ i don't know how to describe them yet. _erotic? _tender flesh? _with a handy grip, and hopefully not looking like a clown's hat. _ a shell? _it could also be a saltcellar: there are small holes at the bottom for sprinkling... [bw]

to simplify the logistics of the exchange, we decided to choose a smaller alternative: the ox head. _barbara made three small ox heads that lick their noses.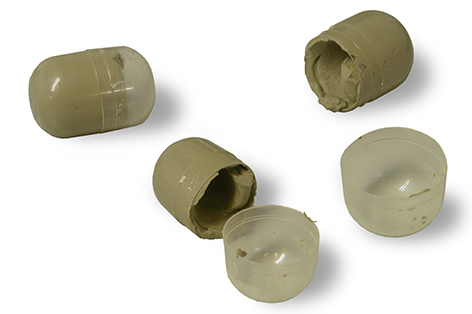 for the raffle, barbara made use of plastic eggs filled with clods of clay, which were distributed to the audience. _a pearl was hidden in one of the eggs. _the finder won the friday-, saturday- or sunday's ox head. _the possession of the trophy creates obligations: at the next crimmp-weekend, the holder must turn in the ox head for a new raffle ánd introduce a new guest to the event.

'slick pot'

in her zest, barbara put up an exhibition in the hallway. _indefatigable and with the greatest of ease she managed to create the 'slick pot', a suggestive piece of pottery in which visitors can deposit their donations after attending the performances.